DR. WENNY QIU
General Dentists Serving in North Surrey, B.C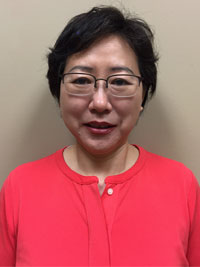 Dr. Wenyan Qiu has over 26 years of experience in dentistry with special academic and clinical interest in Preventive Dentistry, Pedodontics, Partial and Complete Dentures and Fabrication of Fixed Prosthodontics ( veneers, crowns, bridges…. ) from China and Canada.Dr. Qiu has gained extensive experience in the art and science of dental laborator as well as her certified denturist designation in Canada. This gave her the opportunity to broaden her dental knowledge and strengthen her skills.
Dr. Qiu's scope of practice is General dentistry for all members of family with special interest in Pedodontics ( children dentistry) and Preventive Dentistry. She is committed to continuously upgrade her knowledge and skills by regularly taking various continuing education courses and attending conventions as well as being an active participant in study clubs. She looks forward to the opportunity to assist you and your families to reach your optimal oral health.
M. Sc. Graduate and Clinical Instructor – School of Stomatology of the Norman Bethune University of Medical Science- China
DDS and Certified Pedodontist ( Children Dentistry) Graduate- School of Stomatology- Jillian University – China
Dean of Preventive Dentistry Department- School of Stomatology – Jilian University – China
Licensed Dentist in BC, Canada
IGP and ICC Clinical Instructor- UBC
Below are links to information about our other dentists. Please click on their individual names for more information.
Ready to Make a Change?
Call our dental office to book your appointment now